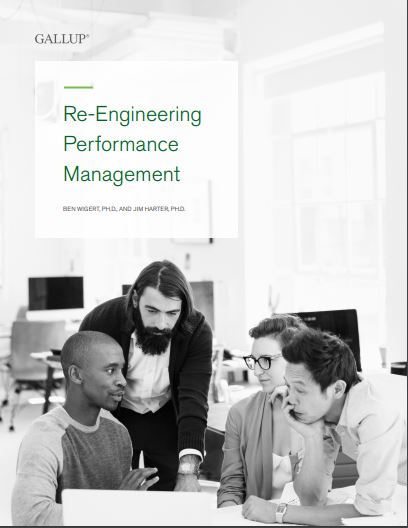 Traditional performance management systems are broken. Companies, leaders, managers and employees have long participated in time-consuming, frustrating performance reviews that have not yielded clear improvements in individual or organisational performance. Many industry leaders, such as Accenture, Adobe, Cargill, General Electric, Google, Microsoft and Netflix, have made headlines for pioneering large-scale changes to their traditional
performance evaluation systems, and many more are considering reinventing their approach to performance management.
Gallup estimates the cost of poor management and lost productivity from employees in the U.S. who are not engaged or actively disengaged to be between $960 billion and $1.2 trillion per year. The cost of lost time spent on traditional approaches to performance evaluations alone is estimated to range from $2.4 million to $35 million per year for a company with 10,000 employees. More conservative estimates tend to exclude lost productivity costs and overhead
costs, such as the cost of employee benefits, technology or human resources staff time spent on performance reviews.
In 2016, Accenture estimated spending over 2 million hours on performance evaluations alone. However, before businesses attempt to redesign their performance management systems, it is important for them to understand which specific components of their systems are broken and why. Without that understanding, they will be unable to create a new system that provides valuable opportunities to more effectively define performance expectations, review progress, adjust goals, recognise accomplishments and develop employees on an individualized basis.