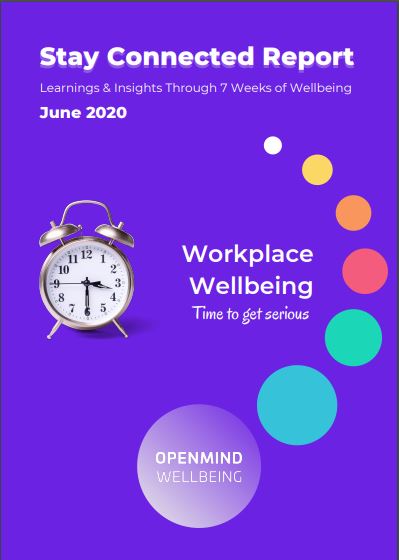 Our friends at OpenMind have been supporting employees and workplaces across the UK through COVID-19 lockdown. In the early days of lockdown, they saw a need for wellbeing that couldn't immediately be met as workplaces initially grappled with the day to day logistics of an entire workforce working from home.
OpenMind launched the Stay Connected campaign, turning to what was in their control in this strange new world and focusing on their core values of Community, Accessibility and Social Responsibility.
Stay Connected was about making virtual wellbeing sessions available to anyone and everyone for as long as possible.
7 weeks
76 sessions
1,931 participants
6,641 sign-ups from 298 companies and 268 sole traders
15 wellbeing professionals selflessly giving time and expertise
1,134 surveys filled out enabling some great insights
With 1,134 surveys completed, there were some great insights which OpenMind have released in their Stay Connected Report.  Sit down with a warm cup of tea and learn about:
Appetite
Motivations
Perception
Impact on participants' Health and Wellbeing