Quidnunc conducted a quick 'straw poll' quiz at the 2018, London based, 'Agile Working event', as part of its ongoing support and interest in the various people and behavioural factors that are likely to influence the future of work.
As promised, we would like to offer this summary of the findings. However, we must first issue a 'health warning' regarding the implied implications of the results
The survey respondents were all attendees at a fee paying one-day conference (suggesting they have more than a slight interest in agile working in the workplace)
18 questions were posed as a quiz and answering was based on their opinion at that moment in time. (See appendix 1)
All questions related to their opinion of their leadership's behaviour, attitude and influence over the practice of agile working in their workplace
Participation was voluntary and excluded conference organisers and Quidnunc representatives
This survey does not purport to be a representative sample of all workplaces in the UK; its intention was to capture opinion 'on the day' with a sample of delegates with a declared interest in the factors affecting agile working.
The Quiz
The Quiz invited respondents to rank 18 statements about agile working considering how each statement relates to their organisation.
For the purpose of our analysis we offered 4 options on a sliding scale from 'almost always true', to 'usually true', to 'usually untrue' to 'almost always untrue'.
Our results appear to loosely group into 4 categories concerning working practice, procedures, resources, culture and leadership capability & behaviour.
The 4 categories, A to D, have been classified as: –
A: Flexible Working
B: Remote Working, Technology & Workspace Management
C: Management Capability
D: Leadership and Culture
The Results
A: Flexible Working
Respondents indicated that although they feel able to ask for flexibility in their organisations, and manage to achieve balance between their work and personal lives, it doesn't always appear to follow through to them actually having flexibility within their working roles.
There appears to be a wide discrepancy in the opinion that the leaders within their organisations can actually identify those employees with flexible requirements. This suggests a lack of awareness and perhaps leadership remoteness to the working needs of their employees.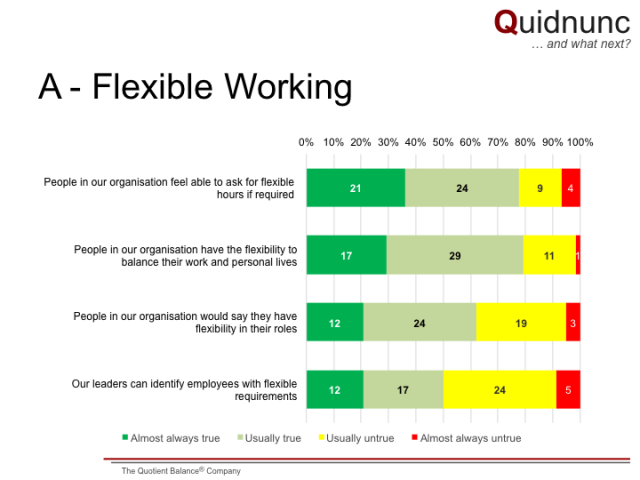 B: Remote Working, Technology & Workspace Management
Investment in workspace management, the technology and procedures to facilitate remote working and create a more agile workplace seems to be active in the majority of organisations. The area where it still appears to require further progress is reaching the point where people can ask to take up those remote working options, if required or desired.
There appears to be a mismatch in this area, where the logistics, procedures and preparations are ready but the employees do not all yet feel able to ask to use them.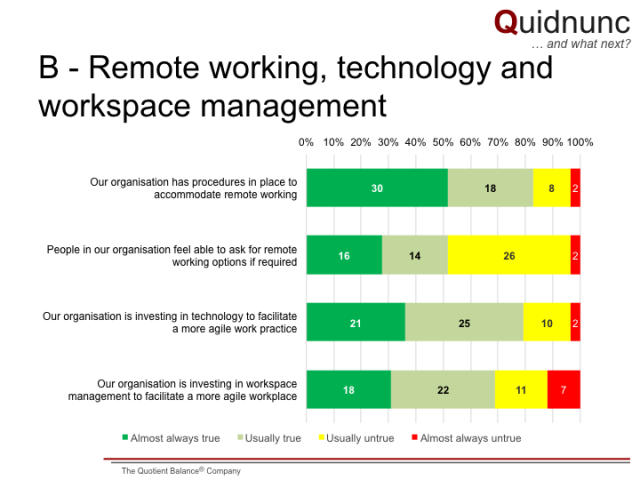 C: Management Capability
A positive response was offered with regard to employees being given a high level of autonomy in their roles, although this decreased slightly when it came to them feeling able to manage their actual hours and activities. Perhaps they are encouraged more towards agility of thought rather than agility regarding time and place.
The view regarding how well leaders manage promotional opportunities fairly, while considering agile options, was mixed. Some respondents doubted this happened at all.
With regard to line management's ability in having the leadership skills to implement agile working within their teams this provoked the most negative response across all the questions. It would appear that whereas agile working practices seem straightforward to organise, the ability of line managers to manage the challenge may require further skilling.
D: Leadership and Culture
Respondents were generally positive about their leaders' ability to listen to employees and felt that their leadership appears open and honest when it comes to communicating about change issues.
Views split further when considering their leadership's understanding of the benefits of agile working and the relationship between the wellbeing of employees and its influence over business performance and adapting to change. It would appear there is still room for improvement within management to pursue the gain offered by adopting a more agile approach and understanding of the soft factors behind employee's wellbeing and its link to performance.
Trust when working remotely was an area that featured highly throughout the conference and this concern was also reflected in the quiz results. It appears that leaders need to impart that employees will be trusted when working both remotely and in a more agile way than before. This mutual understanding is fundamental to the success of agile working.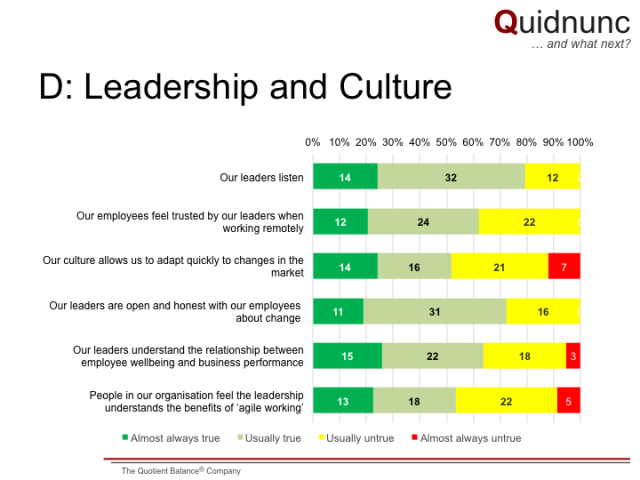 Charles Fair, Head of Insight & Analysis at Quidnunc, regularly monitors and analyses the factors that affect how we feel about both our work and who we work for.
Given the specific circumstances surrounding this straw poll of prompted responses, the overall results are in line with what was expected: a variety of organisations already on the journey to address agile working practices and challenges within their organisations, yet keen to benchmark others who have insight and experience to share.
In summary
The recurring theme of the day was that agile working is about much more than having flexibility in one's working hours and work location. It is as much about attitude as it is presence.
The success of agile working involves developing a change in mindset, particularly within leadership, to harness the power of agile working and reap the apparent commercial benefits. Most importantly the plans to drive it forward must be built on a platform of trust, starting with the leadership in the organisation. They will be expected to demonstrate not only a better understanding of the factors that are important to employees to enable them to work in a more agile way, but enable it to happen.
This includes creating a culture change and moving away from needing employee presence to prove activity. It appears that advances in technology and facilities are ahead of the leadership mindset in enabling it to happen.
That said, plan are afoot to make the change towards a more fulfilling and agile working world. The key will be keeping the momentum going and taking the employees with you on the journey, whether in person or virtually.