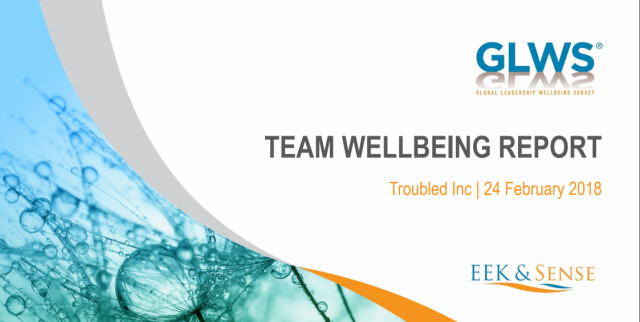 Workplace wellbeing – get the whole story with GLWS's Team Wellbeing Report
Most workplace wellbeing initiatives don't deliver. Why is this?
The evidence suggests that it's because organisations invest in 'one size fits all' approaches, which fail to diagnose and target the factors that have the biggest impact on individuals' wellbeing.
This leaves people feeling, at best, let down – and at worst, cynical about their organisation's commitment to supporting their wellbeing.
On top of that, many programs are too narrow in focus – believing that wellbeing is just about physical and mental health, ignoring the full range of factors that are important and how they impact people both in and out of work.
To address these gaps, organisations are turning to an innovative wellbeing tool called the Global Leadership Wellbeing Survey (GLWS).
GLWS is a uniquely holistic, evidence-based tool that delivers deep insights into what shapes and sustains a leader's success – at work and at home. It helps leaders and their teams tackle personal and workplace wellbeing priorities head on, and pivots the wellbeing offering into something all leaders can believe in and benefit from as a personalized intervention.
This survey is not for businesses looking for a quick fix. It's for those who want wellbeing to be part of their DNA.
Inspire your leaders and their teams to be, feel and stay at their best with GLWS.
You can also meet GLWS at the Wellbeing at Work event in Sydney on 27 September & in London on 8 November