BeYou, an award-winning wellness company, breaks down the importance of living a healthy life in bite-size pieces
We get it. In today's modern and stressful world you're constantly pressed by deadlines and the last thing you're thinking about is your health (or your productivity for that matter).  But it won't do you any favors if you're burning the midnight oil, lacking sleep, eating junk food or never getting up from your desk.
Food is one of the most singularly important factors in overall health. What we eat and how we fuel our body has a huge impact on our mood and energy levels throughout the day, influencing our physical, mental and even emotional well-being.
Studies show poor nutrition impacts health three times more than low levels of fitness. A poor diet has been linked to increased risks of health problems such as high blood cholesterol, obesity and diabetes. While adopting good nutrition contributes not only to optimal brain health but can actually support and improve cognition.
WHO WE ARE
Born in Barcelona but citizens of the world, BeYou is an international team with first-hand experience in corporate burnout to a complete 180 towards a healthier life. At BeYou we're dedicated to help employees in the pursuit of total wellness through the creation of mobile web-enabled products and AI-driven Health & Fitness solutions.
BeYou is a member of the European Institute for Innovation and Technology, EIT Food. The members of the EIT Food community are world-class players in the international food domain: over 50 partners from leading businesses, research centers and universities across 13 countries.
In 2015 we were selected among 250 other European start-ups to join Europe Silicon Valley wellness accelerator, H-Farm. Having successfully developed two mobile apps BeYou and Golden Steps, our start-up won numerous international awards and recognitions. Our shareholder and sponsor is Technogym, the global leader in gym equipment.
WHY WE DO IT
A healthy diet has a direct impact on your mood and energy levels throughout the day. With corporate employees spending a third of their life in the office, supporting healthy habits in the workplace must be a top priority. Research shows unhealthy eating habits can cause a 66% loss in productivity.
It's no surprise that investing in good health and corporate wellness programs create a thriving workplace that's more profitable and creative.
In the long term, a healthy work environment prevents numerous health risks and reduces costs for health insurance, improving both the physical and mental health of your workforce. In the UK alone, as many as 15.4 million workdays are lost due to burnout per year.
While there are many things one can do to live a more healthy, BeYou's expertise, success and solutions work in four core competencies: Personalized Nutrition, Fitness, Emotional Wellbeing and Gamification.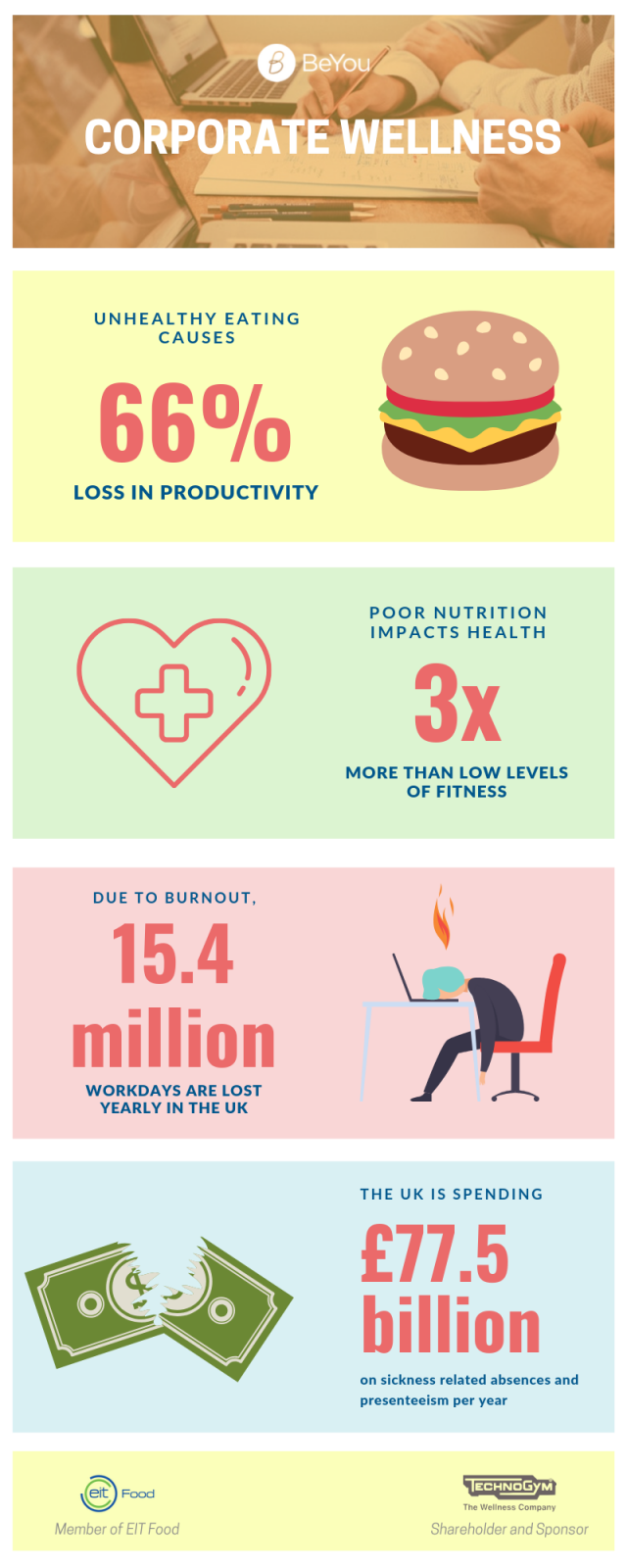 WHAT WE DO
THE TOTAL WELLNESS FORMULA

Working with our partners at the European Institute of Innovation & Technology, Food, we know from research that the best approach to reach total wellness is to implement a holistic approach.
With our Total Wellness Formula users can finally start to live and work better:
Eat better. Like the proverbial saying 'You are what you eat', in order to be fit and healthy we need to eat good food. Optimal nutrition can support your mood and energy levels.
Move better. Exercise is a powerful antidote to stress and burnout. Moving your body for at least 30 minutes a day can improve your mood and increase concentration levels.
Feel better. Emotional support and reward is the foundation of the Total Wellness Formula. With the right tools and support we motivate employees to stay on track, reach their health goals and earn rewards.
HOW WE DO IT
BeYou combines an ecosystem of expertise, success and innovative thinking in our approach to creating digital solutions for both B2B and B2C.
Eat Better
We integrate over two million recipes that allow users to create personalized meal plans based on preferences in diet types, allergies, different cuisines and cooking time. All recipes come with complete macronutrient breakdowns, allowing the user to keep track of the total amount of calories.
Move Better
We create personalized fitness programs by analysing the users preferences and training level. There are over 250 HD workout videos available, both outdoor and gym-based, to support the users workouts.
Feel Better
We provide instant feedback and recommendations based on what you eat and drink to help you make healthier choices. Users have access to a personalized index based on three different components to track their progress; Nutrition, Physical activity and Emotions. Soon we're adding Sleep to the puzzle too!
Our dedicated health professionals help employees stay motivated and keep momentum to reach their personal health goals – accountability is key. In addition to our health professionals, users have the added bonus of gamification. Gamification is an incredible tool that makes the journey towards total wellness rewarding, social and fun. Research shows people are 10x more likely to engage in a health program if there are reward incentives offered.
For more information on BeYou, our corporate wellness program and how we can support a thriving workplace please visit us at BeYou, email Business Strategist Leslie Saglio at leslie@beyouapp.com or or meet us at the Wellbeing @ Work event in London on 6 November.