The discussion on mental health, sick leave and the expenses for the society is currently very active and has been for several years already.
In Finland we see this worrying development in the increased prevalence of disability pensions. In the UK you find similar trends with sick leave days due to mental health issues growing. This is a personal tragedy for the individual him/herself, a challenge for the team, as well as a loss and cost for the entire organization. I think we can all say that this is a development that needs to be addressed and stopped, no matter what country you are living in.
In this post I will shortly describe the key features of the KivaQ method and how it also can be seen as preventive factor to mental health problems. Mental health is a complex combination with many components, and even if the main part is on an individual level, a lot of small supportive things can as well, surprisingly, be done on a team level at the workplace.
The very core of the KivaQ method, constructed by occupational doctor Ove Näsman, is in health promotion. What we see now going on in our society is the very opposite, in financially strained times, workplaces save money by reducing staff and conducting quick cut downs, which lead to higher workload, stress, and very often increased expenses in terms of sick leave, loss of staff, and recruitment struggles.
The philosophy behind KivaQ is that the organisations need to give the best conditions to create and develop resilient well-functioning teams, which also stay functioning in hardship. The management level needs to see the potential they have in the teams. Teams who very often are experts in their own field, who understand the grass root activities, and who often can be included in discussions on change and restructuring to ensure the very best outcome.
On a team level, one key factor to resilience is communication and psychological safety. Between co-worker and co-worker, and co-worker and superior. One cannot enough stress the importance of expressing yourself in your workplace, your thoughts and ideas of your work tasks, and talking to your closest work mates on how to make the teamwork the best possible. Even more important is to listen to your own work mates, to understand their ideas and thoughts. Curiosity and testing new ways of doing a task is often forgotten. Another thing is compromise, the quote by Rumi fits in well here: "In the field between wrong-doing and right-doing, I´ll meet you there". What if we aim to find our team´s common way through dialogue and an explorative way of working?
This is the way we work with our teams in the KivaQ method. Which means that in times of hardship and struggle, the team members are ready to adapt to new situations, prioritize the tasks together and commonly carry responsibility for their team. This way of working and its positive impact on work wellbeing can clearly be seen in the KivaQ questionnaire, and especially in question number 1: Have you enjoyed coming to work in the last weeks? with an inspiring improvement in many groups.
Follow KivaQ on futureofworkinsights.kinsta.cloud. We will post more cases and information on the KivaQ method before November 6th, when we will be in London for the Wellbeing @ Work Event, hosting a round table discussion and you can meet us live.
The Finnish KivaQ Method For Improved Wellbeing At Work
What we do
KivaQ is a Finnish company specialized in developing wellbeing at work in companies and organisations, which enhances productivity and profitability.
Our mission
Our mission is to improve work wellbeing by engaging all members in the work community. We believe that a constructive dialogue, concrete solution focused actions and participatory leadership play a key role in successful development of workplace wellbeing. Our special focus in on team level – We want to empower teams and give them the best tools to be the very best they can be.
How we do it
The KivaQ method has both scientifically and in practice been proven to help workplaces and their personnel towards well-performing teams.
The KivaQ Method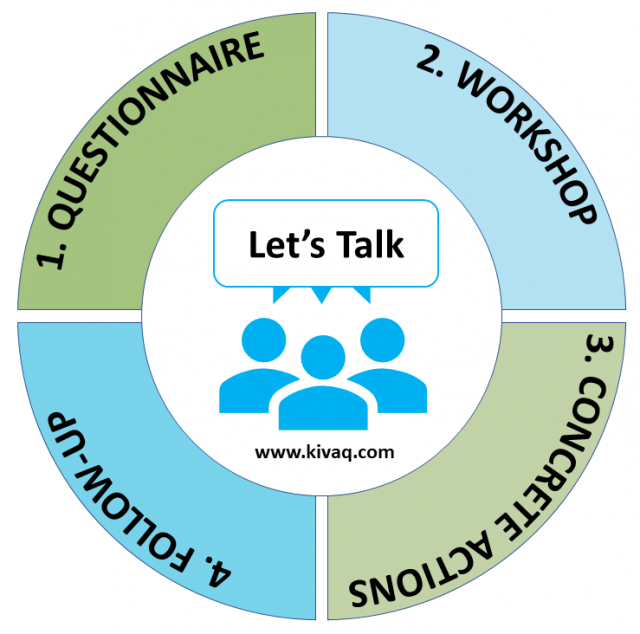 Step 1. The KivaQ Work Wellbeing Questionnaire
The validated Questionnaire is short and fast with 7 standard questions, which can easily be analyzed with the KivaQ application.
The team will get an overall picture of their work wellbeing by using for example averages, distribution of answers, cross-tabulations and reference materials. The result is presented in an interactive way to the co-workers which is including and opens for a dialogue. This dialogue is the first big step towards improved workplace wellbeing.
Step 2. The KivaQ Workshop
The next step is the Development workshop where the team members discuss the different needs of improvement and development at their workplace. The reflections about their workplace has a learning purpose and is important. The workshop is structured and results in concrete, custom-made, practical actions. The structured format enables and even compels every team member to be active in the discussions.
Step 3. Concrete Actions
The most important outcome of the workshop are the Concrete actions, that the team together has planned and discussed. The team will now implement the actions to their workday and together see how the new ideas are working. The problem solving skills are being actively trained during this period.
Step 4. Follow-up
It takes repetition and time to implement a new routine. Therefore, an important part of the KivaQ method is the follow-up of the team´s development. This enables the members to reflect and learn from the new experiences. Follow-up is generally 2-3 times with a 3-6-month interval.
For more information please go to kivaq.fi