The traditional HR system of sorting logistics like annual leave is becoming outdated. Before, HR teams never involved themselves on a face-to-face level to handle an employee's personal issues. But increasingly we are seeing tech companies transitioning from HR to a People Ops team. With a focus on appointing roles such as Head of People and a CHO (Chief Happiness Officer). This reflects the changes companies are making in the workplace culture. There's more overlap between an employee's personal life and its effect on professional performance, versus a time when we had to separate the two.
We are all learning about the importance of maintaining positive mental health and wellbeing. So wherever your company is on this journey, the key thing is to just start. This needs to be a top priority as it was reported that mental health problems in the workplace cost the UK economy over £34.9 billion in 2018 (according to a study by the Centre for Mental Health).
So, are you ready to make a positive change at your company? Here are the three key areas to effectively and efficiently integrate wellbeing into your workplace.
1. Open up and start talking
At work during work hours.
A lot of employers fear to touch the subject of mental health at work. The major concern being that if employees open up about their mental health struggles, this might negatively impact their work and will be harder to manage. For example, if a salesperson says that they are struggling with anxiety and they are also not hitting target, how do their managers handle this? The answer is clear. Each person is an individual and will need different things. This is the same as physical health. One person's back problem may need a 30 minute physio appointment, while another person may need a week off work to take regular medication. The key is to have open, honest and caring dialogue.
While it's important to discuss mental health struggles, such as anxiety and depression (which is a serious reality for 1 in 4 people), it is necessary to open up discussion on what positive mental health and wellbeing is and looks like. A great way to start is simply to get people talking.
At EDITED, we aim to involve the whole company by opening up together. This leads to vulnerable, honest and human conversations. We achieve this with one-on-one wellbeing coaching sessions and group workshops. It's an easy and effective way that doesn't require specialist knowledge.
One of the most powerful ways to destigmatise mental health at work, and create a safe space for others to open up, is if a leader shares their own story around a mental health struggle. This informs all employees that it is okay to have a struggle and to open up dialogue about it.
Another concern of talking about mental health is that the employer will be liable and responsible for having to help the struggling person. When having conversations about specific mental health struggles, remember, you do not need to be trained in how to diagnose mental health conditions. What you can offer is a safe place to talk and for the person to explore their options if they need external help. The key point is to start and to show empathy. Many people I coach have already sought help from a GP or psychotherapist. But this does not mean that these are external, 'out of work' issues. They will still face similar struggles during their work day – so it is crucial that they still have access to someone to speak to during work hours. This also speaks volumes for the company's culture to showcase they respect these intrinsic human qualities.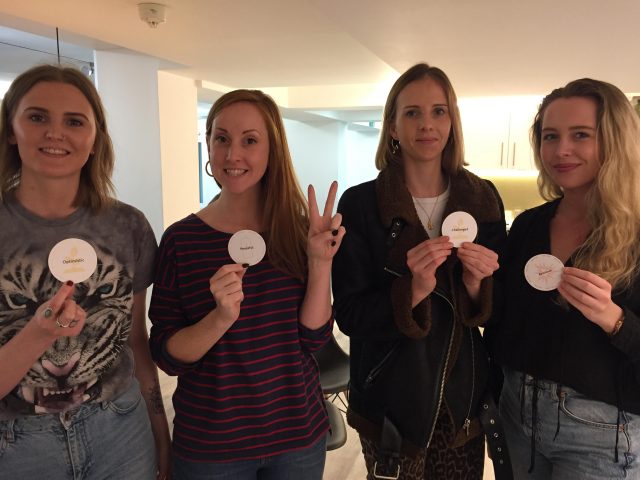 An emotion check-in at EDITED HQ.
2. Practice and repeat.
Behaviour change takes conscious and repetitive effort.
The option of inviting an external professional to speak about mental health at your company or to coach people for a week is only a temporary solution with no long-term effect. In order for positive behaviour to take effect around mental health, the message must be consistent. Along with being constantly reminded and reinforced within the company. This includes offering employees ways to maintain it. One great way to engage everyone is to run daily wellbeing activities.
At EDITED, there's a different wellbeing session scheduled into everyone's calendar to allow people to freely drop into. The activities range from mindful meditation, a brisk walk, a light morning stretch to a mid-afternoon relaxation meditation. It encourages people to get away from their screens, mix teams and focus on their self-care. Each activity lasts between 10-15 minutes. Eventually you build up a team of wellbeing ambassadors, who share the effort to get others to participate.
If people are feeling anxious or overwhelmed, they can confidently take time out to meditate on their own during office hours. We want to make sure this is something the company supports them with.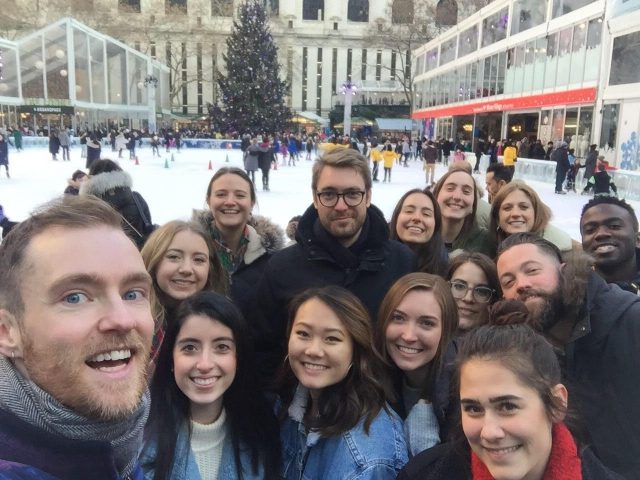 A wellbeing 'brisk walk' session with the NYC office. We got fresh air, away from our screens and interacted together.
3. Promote your values.
It starts at the top.
The most powerful way to spread a message in your company is to get your leaders to promote the message. If your CEO tells the company that they take the team's mental health and wellbeing seriously, where they see employees as individuals and not just numbers, more people will feel empowered to prioritise their mental health.
From hiring a wellbeing coach at EDITED, it shows that there is care from the top. This sends a strong message to employees to take advantage of all the wellbeing sessions during work. If you're struggling with buy-in from your executive team, present statistics around the cost to employers as it's hard to argue on the severity of such an issue.
One of EDITED's company values is 'Care' and we promote it in every workshop, 1:1 session and People Ops email sent. But the message also has to be part of the culture and internal dialogue within the company. Ensure that your company has an element of their values that focus on employee's wellbeing and get this spoken about as much as possible.
BIO
Simon Walton is an Internal Wellbeing Coach at EDITED, where he's coached over 100 employees and have clocked over 400 coaching hours. His role involves leading wellbeing sessions, facilitating group workshops and encouraging open dialogue around mental wellbeing. Simon's ultimate goal is for all employees (from graduates to executives) to feel they can be their true selves in the workplace by offering a safe, confidential space free of judgement.