Event Navigation
Overview

Speakers

Event Brochure

Agenda

Partners & Supporters

Book your Tickets
The fifth annual US Wellbeing @ Work Summit takes place March 16-18, 2021.
Keynote Speakers include the First Lady of NYC, Chirlane McCray, International best-selling author of Dying for a Paycheck and Professor of Organizational Behavior at Stanford University Jeffrey Pfeffer and global thought leaders & change-makers. See our speaker tab above for our full line-up.
The three-day virtual festival will cover all time zones across the US and attracts senior-level HR, Reward, Wellness, Benefit and business leaders from across North America like you, who are looking to take their wellness and mental health strategy to the next level.
The Wellbeing @ Work Summit delivers strategic direction, advice and inspiration from employers and experts from across the world to help you create a more compassionate corporate culture that delivers results. The design and implementation of a holistic wellbeing and mental health program that delivers healthy outcomes and a more productive organization is paramount right now.
You can attend our engaging virtual event using our highly intuitive AI enabled matchmaking platform which will allow you to interact with like minded leaders from across the North America time zones two weeks before the event for world-class networking. Expand your knowledge, gain actionable insights and connect with HR and Wellbeing experts in your region.
A fantastic event! It's incredibly inspiring and moving to see so many companies investing in the wellbeing of their employees

Employee Experience Lead, We Work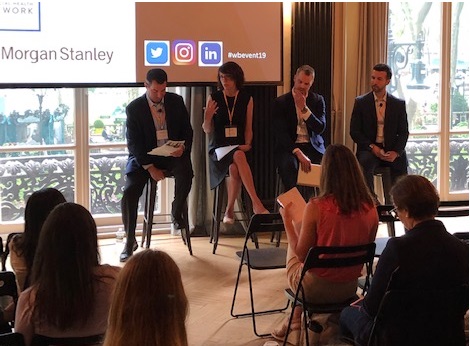 Our highly intuitive AI enabled matchmaking platform creates an atmosphere that encourages conversation, sharing & enables new connections. You'll get access to inspirational keynote speakers, interactive campfire panel discussions and strategic workshops that will challenge corporate thinking and provide you with a blend of actionable insight and positive outcomes, fitting for the new future of work.
Key Reasons to Attend:
An engaging AI enabled matchmaking platform to make invaluable connections & host virtual meetings up to 2 weeks before the three day festival
Learn how multinational organizations are creating workplaces where employees thrive in the new world
Campfire panel discussions informing workplace change & mental health solutions
US based employer case studies providing the secrets to employee wellbeing success
International experts bring best-practise from across the globe
Invaluable networking with business leaders from across North America
This event is amazing! This is the place to be if you want to get energized and know what the best of the best are doing within their workplaces

Chief Heart Officer, VaynerMedia
More than ever, CHRO's need to be at the forefront of business strategy and organizations that prioritise workplace wellbeing out-perform their competitors. Thriving workplaces are healthier, more profitable and creative so this is an essential must-attend event for those leaders and companies who want to succeed!
Join the conversation before the event on Instagram, Twitter & Linkedin using #wellbeingatwork
First Lady of New York City, Chirlane McCray
Nationally recognized as a powerful champion for mental health reform and named a 2019 "World Health Organization Champion"
Jeffrey Pfeffer, International best selling author & Professor of Organizational Behavior, Stanford University
International best-selling author of 15 books including Dying for a Paycheck & Professor of Organizational Behavior at Stanford University
Jen Fisher, Chief Well-being Officer, Deloitte
Internationally respected leader on work-life, health, & wellness and leads Deloitte's Talent Engagement Center of Excellence
Poppy Jaman OBE, CEO, City Mental Health Alliance
Global ambassador for mental health, national policy advisor, social entrepreneur & CEO of the City Mental Health Alliance globally
Nkechi Nwafor-Robinson, Associate Vice President, Technology, Enterprise Systems, Security, and Solutions, TD Bank Group

Award winning Technology executive, inspirational speaker, CEO of Empowered in My Skin Inc & 2020 WXN Most Powerful Woman Canada – Top 100.
Dr. Candice Schaefer, Global Head of Employee Wellness, Twitter
Dr Candice is a licensed clinical psychologist who gained 10 years experience in medical settings before moving the tech industry in 2017.
Claude Silver, Chief Heart Officer, VaynerMedia
30+ years of working with people, 40+ years of being curious, 5 years as a Chief Heart Officer & 7 years working with Gary Vaynerchuk
Aneel Chima, PhD, Founding Director, Stanford Flourishing Project at Stanford University
Aneel directs the Division of Health and Human Performance and founding director of the Stanford Flourishing Project at Stanford University
Jennifer Paylor, Head of Learning, Talent, and Culture for North America, Capgemini
Visionary & bold leader and proven expertise driving exponential growth & organisational transformation through effective people development
DeAnne Aussem, Managing Director – Leadership Development & Wellbeing Leader, PwC US & MX
A dynamic and innovative business leader with deep expertise in Strategy, Global Leadership Development, Wellbeing, D&I & Human Capital
Brian Heyworth, Co Managing Partner, Lansdowne Partners & Chair of City Mental Health Alliance
Passionate mental health advocate & a 30 year career in banking including roles at JP Morgan, Bank of America and HSBC
Alice Kim, Executive Director & Head of Investor Relation for Infrastructure Partners, Morgan Stanley
Alice is also on the leadership team for Morgan Stanley's Mindfulness Initiative & a co-founder of Mindful on Wall Street
Mita Mallick, Head of Inclusion, Equity and Impact, Carta
Mita is a corporate change-maker and passionate storyteller with a track record of transforming businesses and cultures.
Matt Jackson, Country Lead, Unmind US
A health & benefits technology expert focused on improving the mental wellbeing of millions of people in organizations across the world
Jae Kullar, Global General Manager, Health & Wellbeing, Delta Air Lines
Experienced Health leader working in dynamic customer service-oriented industries including healthcare, education and aviation
Sydney Coleman, Diversity Program Manager, Google
Spearheaded Google's participation in the UN's Women's Empowerment Principles & dedicated to better representing users
Dawn Sharifan, VP, People, Slack Technologies
Dawn has 15+ years experience in both public and private organizations, from start-ups to Fortune 500 companies
Louis Gagnon, CEO, Total Brain
Held senior roles at Audible/Amazon, Yodle and Monster Worldwide & led 5 business and social enterprises on four continents
Susana Mendoza, Director, Investment Banking, Credit Suisse
Director at Credit Suisse's investment banking division and part of the team at Mindful on Wall Street
Clif Smith, Americas Mindfulness Leader, EY
US Army veteran, former diplomat & intelligence officer who is internationally recognized for bringing mindfulness into the corporate world
Katie Juran, Senior Director, Diversity & Inclusion, Adobe
Katie leads Adobe's diversity and inclusion efforts globally, along with shaping Adobe's employee experience message internally & externally
Josh Gray, Senior Director, Strategic Programs – Total Rewards, WPP
Leading the development and incubation of key programs across the WPP network that bring to life an inclusive employee experience
Kelly Greenwood, Founder & CEO, Mind Share Partners
Founder & CEO of Mind Share Partners, Kelly has a cross-sector background that includes corporate, nonprofit and foundation roles
Ken Duckworth, Chief Medical Officer, NAMI
Ken became a psychiatrist in part to help his father. He is the medical director for NAMI & consults at Massachusetts Mental Health Center
Sonja Gittens Ottley, Head of Diversity & Inclusion, Asana
Sonja is responsible for crafting and directing Asana's inclusion strategy, creating an environment that allows everyone to thrive.
Douglas Martin, VP & Founder of the Morgan Stanley Mindfulness Employee Initiative
Leads the Mindfulness Employee Initiative across the Firm on how to apply mindfulness to improve focus, well-being, resilience & compassion
Janna Bilski, Investments Division, Ford Foundation
Janna works on investments and leads the mindfulness program at the Ford Foundation & is also part of Mindful on Wall Street founding team
Gerold F. Koch, CFA, Head of ESG Investment Specialists, Americas, DWS Group
Gerold leads conversations with key investors in the Americas around Environmental, Social and Corporate Governance investing
Angela Martinucci, Founder, Mind Balance & Co-founder, Bay Area Brain Spa
Angela discovered the power of brain training when she was diagnosed with stage 3 cancer & was instrumental in her healing
Jeanette Bronée, CEO, Path for Life Inc.

Rethinker, Wellbeing Culture & Performance Strategist, Mental Health Advocate, Global Keynote, TEDx Speaker and Author
Sheila Hamilton, Bestselling author, journalist & CEO, Beyond Well Solutions
Five-time Emmy Award winning journalist and the author of "All the Things We Never Knew"
Kevin Dedner, Founder & CEO, Hurdle
An award-winning public speaker with 15+ experience, focusing on transforming the mental health experience for diverse populations
Sophie Pauze, Director of Strategic Partnerships, Mayor's Office of ThriveNYC
Sophie focuses on reducing barriers to mental health support through partnerships bringing together agencies, non-profits & private sector
Chris Lynn-Logue, Employer Engagement Manager, Thrive in Your Workplace
Chris is a social worker, mental health advocate & works at the Mayor's Office of ThriveNYC as the Employer Engagement Manager
Chris Cummings, CEO, Sonas Group
Leading the strategic direction and global team for the Wellbeing @ Work Summits & Wellbeing @ Work Hub global community
All times EST to allow for attendance from across North America:
Platinum Partners:
Event Partners:
Event Supporters: