The fifth annual Middle East Wellbeing @ Work Summit takes place 22-24 February 2021.
The three-day virtual festival attracts senior-level HR, Wellbeing, Benefit and business leaders from across the Middle East like you, who are facing business critical employee wellbeing and mental health challenges and those leaders who want to take their wellbeing and mental health strategies to the next level.
The Wellbeing @ Work Summit delivers strategic direction, advice and inspiration from employers and experts from across the world to help you create a more compassionate corporate culture that delivers results. The design and implementation of a holistic wellbeing and mental health programme that delivers healthy outcomes and a more productive organisation is paramount right now. We will also be presenting results of our extensive Middle East region wide survey on wellbeing and mental fitness in organizations across the region partnership with Cognomie.
You can attend our engaging virtual event using our highly intuitive AI enabled matchmaking platform which will allow you to interact with like minded leaders from across the Middle East time zones two weeks before the event for world-class networking. Expand your knowledge, gain actionable insights and connect with HR and Wellbeing experts in your region.
I just want to say congratulations once again on your Summit. It was a beautiful event!

Head of People Experience, Chalhoub Group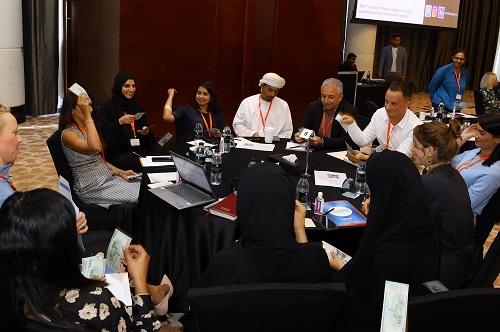 Our highly intuitive AI enabled matchmaking platform creates an atmosphere that encourages conversation, sharing & enables new connections. You'll get access to inspirational keynote speakers, interactive campfire panel discussions and strategic workshops that will challenge corporate thinking and provide you with a blend of actionable insight and positive outcomes, fitting for the new future of work.
Key Reasons to Attend:
An engaging AI enabled matchmaking platform to make invaluable connections & host virtual meetings up to 2 weeks before the three day festival
Learn how multinational organizations are creating workplaces where employees thrive in the new world
Campfire panel discussions informing workplace change & mental health solutions
Middle East based employer case studies providing the secrets to employee wellbeing success
International experts bringing best-practise from across the globe
Invaluable networking with business leaders from across the Middle East
Thank you so very much once again for a marvellous conference!

Regional Director of Training – Middle East & Africa, Kempinski Hotels
More than ever, CHRO's need to be at the forefront of business strategy and organizations that prioritise workplace wellbeing out-perform their competitors. Thriving workplaces are healthier, more profitable and creative so this is an essential must-attend event for those leaders and companies who want to succeed!
Join the conversation before the event on Instagram, Twitter & Linkedin using #wellbeingatwork